WEINIG BKW: The band resaw as a single or twin band saw with a feed speed up to 150 m/min.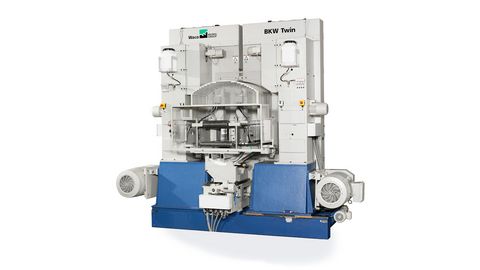 The high power band resaw for large dimensions at high speeds. High standard with SPS control for dimensional setting for series cut. Settings for the center cut device can be made at the press of a button. Adjustable saw blade speed for different types of wood. High cut height and perfect dimensional accuracy thanks to stable band guidance and high band tension. Long service life thanks to broad saw blade. Heavy, steplessly adjustable electronic feed work with single feed roller with pneumatic pressure element for perfect wood guidance.
High productivity thanks to simple and quick dimensional settings. Safety and long service life thanks to effective saw blade cleaning, band wheel cleaning and lubrication. Ideal for integration into full or semi-automatic planer and saw lines. Available as right or left-sided band resaw. In addition, you will benefit from safety based on strict quality standards, fantastic ease of use and naturally, top service from the world-market leader.
---
The WEINIG BKW provides
Solid and robust construction
Bevel-cut device
Excellent performance potential
Easily adjustable and exchangeable saw blade guidance
Electronic feed drive
Programmable settings
Convenient operation
Maximum work safety