WEINIG ProfiPress C: The very best. Non-stop high-performance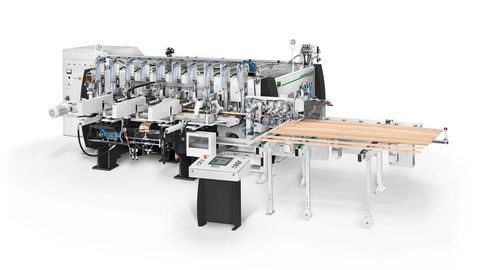 Here, high-performance is standard, the capacity per shift starts at around 800 m². This is with the best quality gluing. From parquet flooring layers to traditional furniture panels, doors, windows, coffins up to laminated beams.
The ProfiPress C series, also known as the "ContiPress" or "DFU" - has been a constant feature for almost 40 years. It can be found all over the world and is always one step ahead.

ProfiPress C stands for efficient production of large series. What are your requirements? The ProfiPress C series processes wood lengths of 0.4 - 16 m in length. You can create your own individual machine from the many mechanization possibilities. Anything from simple, double-sided and multiple feeding systems up to integrated sawing units in the press outfeed. Together we will develop the perfect solution for you. Just ask us!
Prices
x
Different requirements - different prices
The price of a WEINIG machine is just as individual as your requirements are. Therefore, let us discuss briefly what is most important to you – you will then receive our preliminary, non-binding quote.
Personal advice
x
Personal advice – for higher productivity and greater efficiency
Together with your WEINIG expert you will find the ideal machine for your requirements. Simply submit the completed form, and your local WEINIG expert will be happy to discuss all further details with you.
---
The WEINIG ProfiPress C series offers you
Very high performance potential
Perfect surface quality
Maximum precision of machine and end product
Convenient and user-friendly
Best integration into existing, productivity-enhancing WEINIG system solutions
Special solutions for special applications
Efficient even with small batch sizes
Just talk to us.
Just talk to us about extensions and mechanizations for the ProfiPress C. We will be happy to advise you!
---
Menu for technology connoisseurs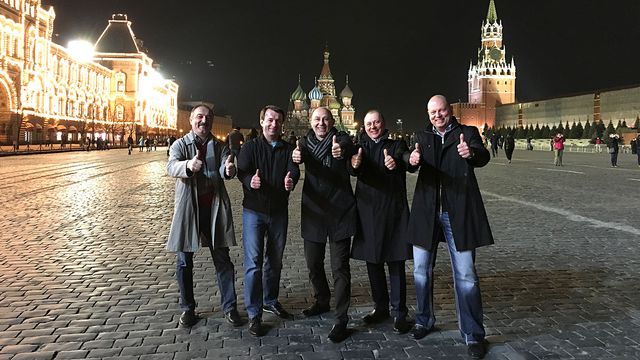 Angara Plus from Bratsk, Siberia, manufactures solid wood components for furniture production on a large scale. The company recently commissioned its second fully-automated production line. WEINIG Concept designed the tailor made solution.
The Russian wood sector is characterized by complex requirements. Tailoring industrial systems requires partners who understand project business. WEINIG Concept is a proven specialist in the field with a worldwide reputation. Something Angara Plus also appreciates. Having been very satisfied with the fully-automated production line for solid wood panels purchased in 2013, the company also turned to WEINIG as its first choice when it came to expanding its operations with a production line for finger-jointed products. What was required was a complete process ranging from checking wood humidity and cutting out defects to cutting fixed lengths, finger jointing, block gluing and destacking. The complete provider WEINIG was able to present a convincing solution. This included the integration of the ultra-fast OptiCut 450 Quantum optimizing cross-cut saw, the EasyScan+ 200 C scanner system and two Powermat moulders that deliver particularly high performance. The centerpiece of the production line, however, is the Turbo S-1000 short timber finger-jointing line with an output of up to 200 parts per minute. The process stage is completed by a ProfiPress C 6100 L high-frequency press. Naturally, the entire automation comes from the WEINIG Group. The production line is designed for 300 production days per year. To achieve maximum machine availability, the production line was equipped with a remote maintenance system. This allows the WEINIG technicians to assist where necessary without having to travel.
Photo: High spirits in Moscow WEINIG CSO Gregor Baumbusch (right) and Angara Plus Managing Director Vladimir Kashishin (2nd left) celebrate the progress of the project with the team
Source: Holz-Zentralblatt
Boxes from the Contipress at Holliger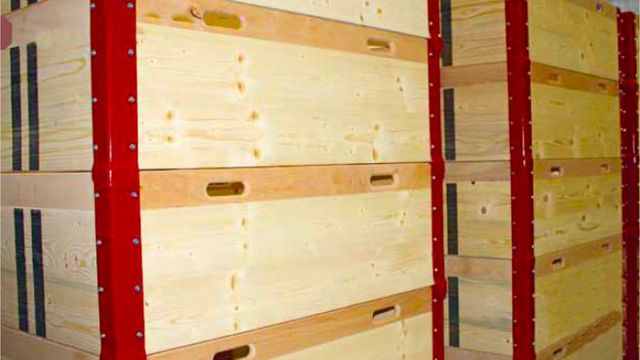 A glance into the production hall at the Holliger Group proves that pallets and boxes do not always equal lower quality. At Villmergen in Switzerland they have invested in a top-quality and efficient production line. - including a panel press for the push-on frames.