Window and door production with WEINIG: The path to profitability
Individually designed windows, special dimensions, smallest batches - this is now a reality in terms of window construction. Efficient production is no longer a feasible using conventional production methods.
WEINIG can also provide a solution to this problem: Production of individual frames. In one run individual sashes and individual frames are processed completely. This means cutting to length, removing glazing beads, tenoning, mortising, longitudinal profiling and milling down glued sashes without changing tools. This allows you to produce a batch size of 1 economically.
WEINIG offers a wide product range from one source, from the small individual machines to highly complex production lines.
These offer the following benefits:
Shorter run times
Steady workload
Smooth material flow
No drawing
No searching and sorting
No expensive stocks
And this means for you: Higher profitability.
Beyond the production of individual sashes, WEINIG also enables additional improvement to the organized working cycle. For example, production of individual parts that saves milling down of sash parts. In addition, profile splitting, a process allowing the production of several profiles with one tool. This means that the total number of tools used on one production line can be drastically reduced and minimal setup times are achieved.
WEINIG products and solutions for window and door production
You can produce windows, doors, facades, conservatories and much more in a flexible and economic way and at the highest quality with these WEINIG CNC processing centers: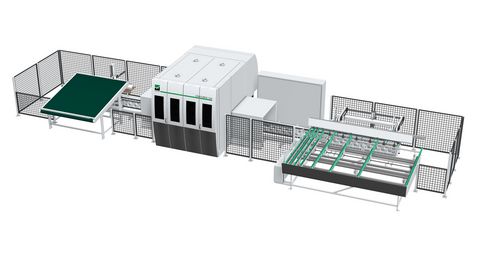 Profiling series for trade and industry
Complete processing in one clamping process
Processing without processing times even for small lot sizes
Automation enables less manpower in production
Maximum flexibility as a result of the large tool magazine
Energy feedback modules means savings in energy
Detail page Conturex processing center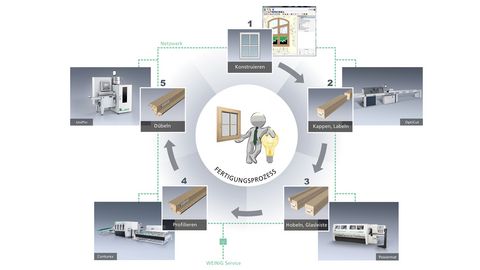 Linked system solutions for industries with high output
Networking of individual production steps based upon proven Conturex technology
Everything from a single source. WEINIG - Your partner in solid wood processing
Customized complete solutions for optimal profitability and quality
Detail page Conturex SYSTEM lines