WEINIG Gluing presses: The production process of the future
Glue solid wood and increase your added value! By increasing the depth of production but also by possible processing scrap wood.
We are continuously developing and improving our systems and machines to meet your needs of your production process. For an optimum added value, panels are produced perfectly aligned as a result of an intelligent pressing process. This helps save material, minimizes post-processing and saves you money. In addition, the glue is applied in a very precise way, which helps to save glue and to reduce cleaning. This guarantees a smooth and secure production process. Automatic feeding systems and high frequency technology that reduce curing times, e.g. for PVAc, to a minimum, are provided as standard.
A variety of applications – from floorings to traditional furniture and DIY panels to mini beams - WEINIG offers you the perfect technical solution out of its portfolio of gluing presses.
All machines can be optimally equipped for each individual application. This includes, for example, various gluing systems, pre-cutting solutions, mechanizations and equipment for modern glue systems.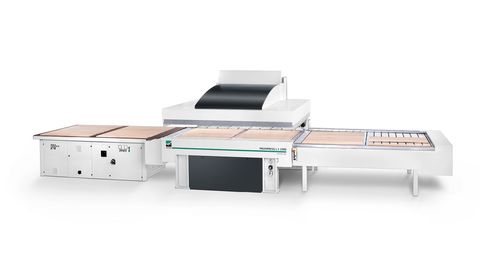 The compact high-frequency gluing press for industry and trade.
Multiplication of the daily capacity compared to manual gluing
Extremely efficient input of high-frequency energy in the glue joint.
Extremely user-friendly and maximum flexibility
Mechanization and automation solutions are available as options.
The best gluing and panel quality
Detail page ProfiPress L II series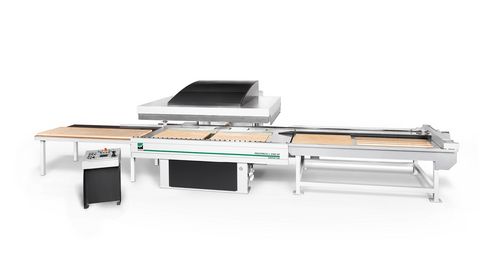 Intelligent gluing technology setting new benchmarks
Highest flexibility - for lot size 1
Individual pressure elements
Movable stop guide
Extremely efficient input of high-frequency energy in the glue joint.
Mechanization and automation solutions are available as options
Detail page ProfiPress L-Series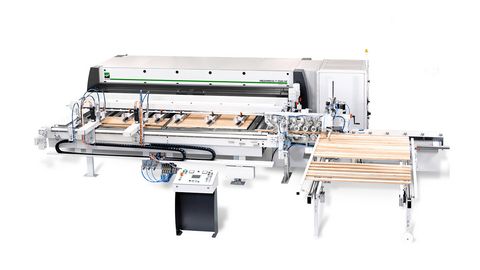 Perfectly adjusted, the upper mid-range
Efficient even with small batch sizes
Unlimited panel width possible
Optimum machine utilization at all times as a result of a system that is not dependent on width
Low post-processing as a result of minimum additional sanding
Modular combinations possible - even after purchase!
Detail page ProfiPress T-Series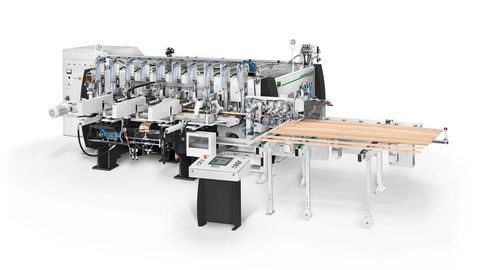 The very best. Non-stop high-performance
Very high performance potential
Perfect surface quality
Maximum precision of machine and end product
Convenient and user-friendly
Best integration into existing, productivity-enhancing WEINIG system solutions
Detail page ProfiPress C-Series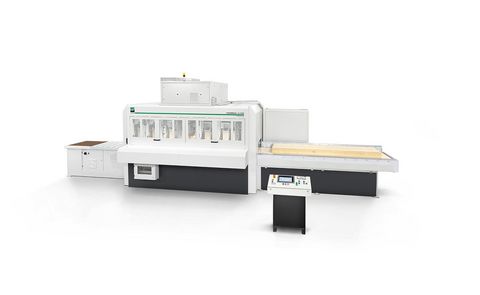 High-frequency gluing press for window scantlings, beams and panels
High performance thanks to short cycle times
Intelligent high-frequency heating technology for a perfect gluing and product quality
Comfortable and safe handling
High-frequency shielding with lowest radiation values to guarantee high working safety
Modular system - upgrades possible
Menu for technology connoisseurs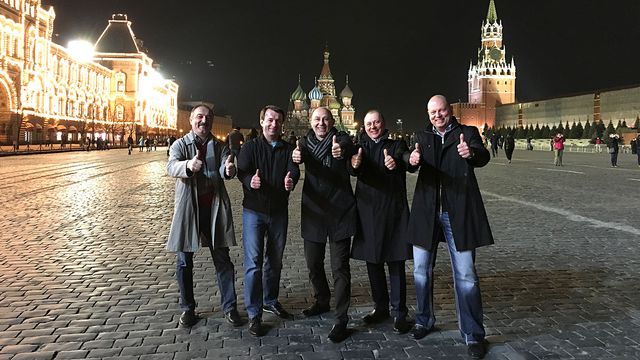 Angara Plus from Bratsk, Siberia, manufactures solid wood components for furniture production on a large scale. The company recently commissioned its second fully-automated production line. WEINIG Concept designed the tailor made solution.
The Russian wood sector is characterized by complex requirements. Tailoring industrial systems requires partners who understand project business. WEINIG Concept is a proven specialist in the field with a worldwide reputation. Something Angara Plus also appreciates. Having been very satisfied with the fully-automated production line for solid wood panels purchased in 2013, the company also turned to WEINIG as its first choice when it came to expanding its operations with a production line for finger-jointed products. What was required was a complete process ranging from checking wood humidity and cutting out defects to cutting fixed lengths, finger jointing, block gluing and destacking. The complete provider WEINIG was able to present a convincing solution. This included the integration of the ultra-fast OptiCut 450 Quantum optimizing cross-cut saw, the EasyScan+ 200 C scanner system and two Powermat moulders that deliver particularly high performance. The centerpiece of the production line, however, is the Turbo S-1000 short timber finger-jointing line with an output of up to 200 parts per minute. The process stage is completed by a ProfiPress C 6100 L high-frequency press. Naturally, the entire automation comes from the WEINIG Group. The production line is designed for 300 production days per year. To achieve maximum machine availability, the production line was equipped with a remote maintenance system. This allows the WEINIG technicians to assist where necessary without having to travel.
Photo: High spirits in Moscow WEINIG CSO Gregor Baumbusch (right) and Angara Plus Managing Director Vladimir Kashishin (2nd left) celebrate the progress of the project with the team
Source: Holz-Zentralblatt
"It worked almost at the push of a button"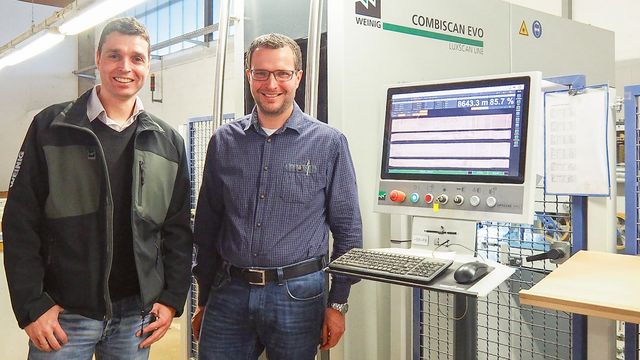 The detection performance of scanners is constantly improving. Installation of these high-tech devices is now almost a matter of "plug and play". The example of Möbelwerke A. Decker demonstrates how it all works.
At Decker, wood arrives as raw boards and leaves the factory as a modern piece of furniture. Managing Director Andreas Decker: "We are the only furniture manufacturer to offer such high value creation: We produce furniture entirely out of solid wood and even manufacture the solid wood panels used ourselves." The company is constantly investing in new machinery to remain at the cutting edge of technology. "Based upon our many years of successful collaboration, we opted for systems from the WEINIG Group," explains Head of Production Rainer Weitzenbürger. In summer 2016, the customer commissioned a CombiScan Evo C200 and a ProfiPress T "Next Generation". The CombiScan detects unwanted wood features and forwards the data to the OptiCut 450 Quantum high-performance cross-cutting system. The OptiCore Direct visualization displays the scanner results including the required crosscuts. The scanner has four-sided laser and color cameras. "Due to the high resolution, the scanner detects color defects such as sapwood or redheart extremely reliably. In the latest version, we have improved width measurement, which is particularly beneficial for panel production," says Jörn Dittgen of Luxscan. The scanner is equipped with laser sensors as well as lasers to detect diagonal cracks (Angle-Cracks Module – ACM). Thanks to the use of four specially positioned lasers, the ACM is able to obtain decisive additional information for detecting diagonal cracks. Commissioning was simple: "The scanner worked almost at the push of a button," says Weitzenbürger. (Source: Holzkurier)
Boxes from the Contipress at Holliger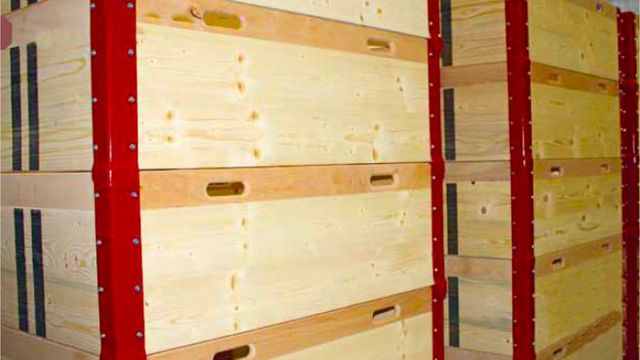 A glance into the production hall at the Holliger Group proves that pallets and boxes do not always equal lower quality. At Villmergen in Switzerland they have invested in a top-quality and efficient production line. - including a panel press for the push-on frames.
Growth in Romania - ProfiPress T glues panels for the Oktoberfest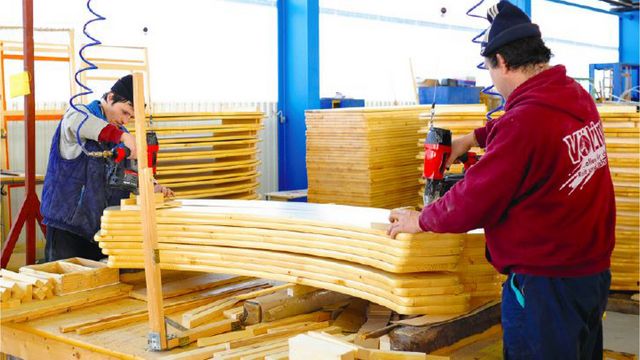 Very few visitors to the Oktoberfest would guess that the beer tables and benches, which often witness late-night dancing and frivolity, are now made in Transylvania. Because of the massive demand for this hard-wearing furniture, the manufacturer, Bucin Mob, invested in an endless gluing and pressing line from Weinig so that they could product the solid wood panels more efficiently.
The ProfiPress L II impressed the Geschützten Werkstätte Integrative Betriebe Tirol GmbH with its work safety and simple operation.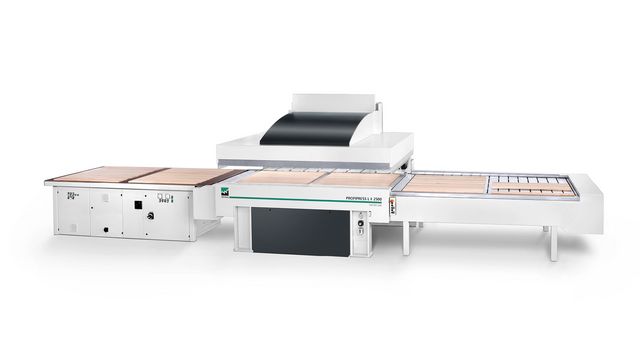 "85% of our employees have a physical limitation, a mental disability or a learning difficulty, therefore it is extremely important to have simple operation!", explains Georg Hechenblaickner, Marketing and Sales Manager of the Geschützten Werkstätte Tirol. "The most important thing for us was to keep the panel production flexible. It was also important to be efficient and to have process reliability, this is possible with the ProfiPress from Dimter!"
Ready for the future with solid wood panels.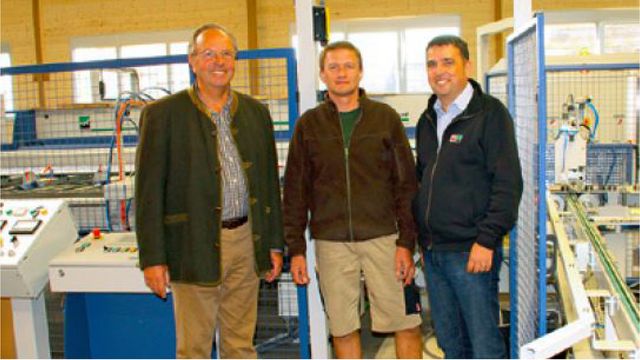 Since 2001 the hardwood sawmill owner Walter Ohnemus has been running a cutting line. In 2011 he dared to take the next step towards further processing: solid wood board production in Kappel-Grafenhausen with the ProfiPress T 3500 from Dimter.