WEINIG Short timber finger jointing lines: Unrivaled in all performance classes as a result of the modular system
The flexible modular design allows machines to be set up according to your individual requirements.
The use of specific modules means that both standard and customer-specific solutions can be found – for both finger jointing lines with wood entry lengths below 1,000 mm and for finger jointing lines with wood entry lengths above 1,000 mm.
The principle can be used for all performance classes: From the ProfiJoint entry model to the Ultra, CombiPact and Turbo-S models up to the high-performance class with the HS120 and HS200 horizontal finger jointing lines. All in all, lines for the highest quality standards in all performance classes, the commercial production of, for example: Solid wood panels or window scantlings.
Invest in a finger jointing line and use your residue wood to produce a valuable, high-quality product.
• Top quality jointing
• Very short setup times
• Fast, simple setup
Can be retrofitted to optimize performance and enable automation.

---
WEINIG finger jointing line for short timber pieces offers you
Robust and powerful
High operational capacity, up to 200 pieces/min (28 km/8h-shiftr)
Processing with one and two component glue
Compact and efficient production process
Statistics and production data recording
Customized level of automation - from manual to fully automatic
Expandable using peripheries, such as feeding systems and stacking systems
Menu for technology connoisseurs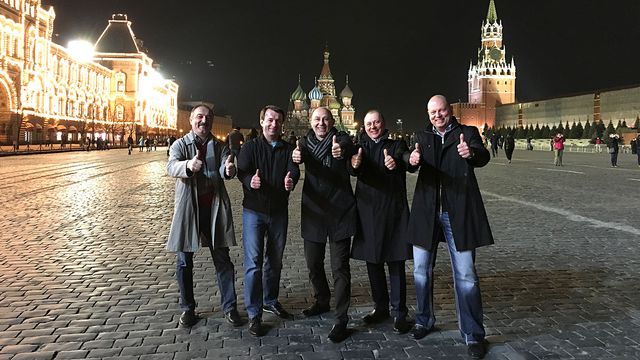 Angara Plus from Bratsk, Siberia, manufactures solid wood components for furniture production on a large scale. The company recently commissioned its second fully-automated production line. WEINIG Concept designed the tailor made solution.
The Russian wood sector is characterized by complex requirements. Tailoring industrial systems requires partners who understand project business. WEINIG Concept is a proven specialist in the field with a worldwide reputation. Something Angara Plus also appreciates. Having been very satisfied with the fully-automated production line for solid wood panels purchased in 2013, the company also turned to WEINIG as its first choice when it came to expanding its operations with a production line for finger-jointed products. What was required was a complete process ranging from checking wood humidity and cutting out defects to cutting fixed lengths, finger jointing, block gluing and destacking. The complete provider WEINIG was able to present a convincing solution. This included the integration of the ultra-fast OptiCut 450 Quantum optimizing cross-cut saw, the EasyScan+ 200 C scanner system and two Powermat moulders that deliver particularly high performance. The centerpiece of the production line, however, is the Turbo S-1000 short timber finger-jointing line with an output of up to 200 parts per minute. The process stage is completed by a ProfiPress C 6100 L high-frequency press. Naturally, the entire automation comes from the WEINIG Group. The production line is designed for 300 production days per year. To achieve maximum machine availability, the production line was equipped with a remote maintenance system. This allows the WEINIG technicians to assist where necessary without having to travel.
Photo: High spirits in Moscow WEINIG CSO Gregor Baumbusch (right) and Angara Plus Managing Director Vladimir Kashishin (2nd left) celebrate the progress of the project with the team
Source: Holz-Zentralblatt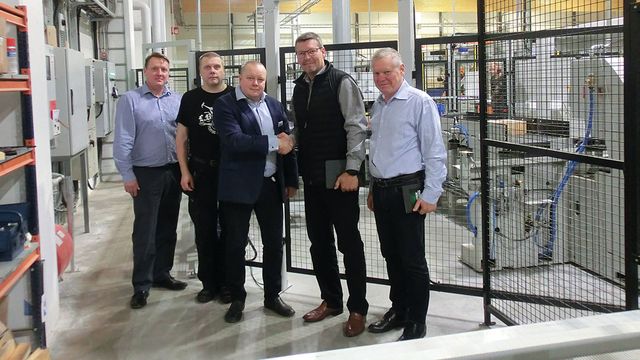 There is practically no decorative profile or wall cladding that Finnish company Maler, based in Ylivieska, cannot make. In order to balance product diversity, quality and price, the company invested in a new WEINIG Turbo-S 1000 finger-jointing line.
Finger-jointing lines can optimally utilize even lower quality material. Jani Oikari, Managing Director of Maler, was optimistic from the outset: "Finger jointing is the key to efficient production." Consequently, he invested in a Turbo-S 1000 along with various customer-specific options. He turned to WEINIG and our Finnish representative Penope in Lahti following years of positive experiences. "When you are investing such an amount, you also want to be certain that the required production capacity will be achieved," says the entrepreneur. Following consistent strong growth, the company now has to fill a 12,000 m2 warehouse while also fulfilling special requests quickly and at a reasonable price. Maler serves both DIY stores and industrial customers, imposing high standards in terms of volume, delivery times, quality and consistency.
The new system will align the partly very delicate and short pieces highly precisely lengthwise and transport these to the milling and gluing station. Thanks to the WEINIG Trimsaver system with two laser measuring units, parts cut at angles are to be detected and accurately aligned. With an upgrade, these parts can even be discharged at the separation station by switching the belt into reverse. This means no more open joints and in consequence an increased timber yield. Work pieces with wane are centered at each belt transfer so that no wood can get jammed. Maler uses these resources deliberately for profiles on which this area will be removed in any case. This way, the manufacturer aims to gain the maximum yield from its raw materials. "We advised Maler to use a 7 mm joint to almost eradicate tears," says WEINIG expert Dirk Bartens. The customer is clearly convinced by the results. Jani Oikari is delighted with the consistently high jointing quality.
Photo: Shaking on it: For Jani Oikari, a deal is not least a matter of trust
Source: Holzkurier
A sector with huge potential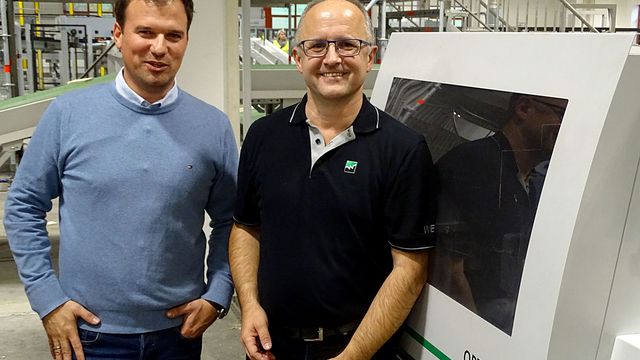 Gigantic would be the right word to describe the Tricor Packaging & Logistics AG production facility in Eppishausen/Germany. Every hour, the fully-automated WEINIG production line produces around 360 pallets for in-house use.
Freight transport is one of the world's major growth markets. Manufacturers of wooden packaging are also benefiting from this. One outstanding representative of the sector isTricor, the European market leader in heavy-duty corrugated cardboard packaging. Customers come primarily from the automotive and mechanical engineering sectors as well as the electronics, medical technology and chem-ical industries. For a long time, the company purchased its annual requirement of 1,300,000 special pallets externally. Then they turned to WEINIG. Besides increased productivity, im-proving the value chain was also on their wish list. In June 2017, a highly automated cutting system was delivered to the Eppishausen plant. Central components comprise three parallel OptiCut 260 optimizing cross-cuts saws with Variospeed infeed belt and downstream sort-ing as well as an Ultra TT finger-jointing line for leftover pieces from 150 mm. The finger-joint-ed lamellae are then fed back into production. Only three employees produce up to 360 pallets per hour on the high-performance production line, which is linked to a Corali pallet system. For a pallet measuring 1,220 x 820 mm, this equates to approx. 80 m/min of incoming materials to the cross-cut saws or around 30,000 running meters per shift. The system is charged via vacuum destacking, which takes up to three infeed stacks simulta-neously with three different wood dimensions. The boards are checked via automatic humidity measurement before a layer allocator assigns one dimension to each of the three saws. Dr. Mario Kordt, Managing Director of Weinig Dimter, underlines WEINIG's special position in the packaging segment: "With our technology, we provide a unique service to an area that ranges from 2-man operations to the industrial sector." With WEINIG's expertise in cutting, gluing and scanning, the WEINIG Group customer receives from a single source everything that is needed to ensure the efficient and economic production of pallets and wooden packaging.
Photo:
A WIN-WIN situation for supplier and customer: Manfred Ness from WEINIG (right) with Tricor project manager Maik Christmann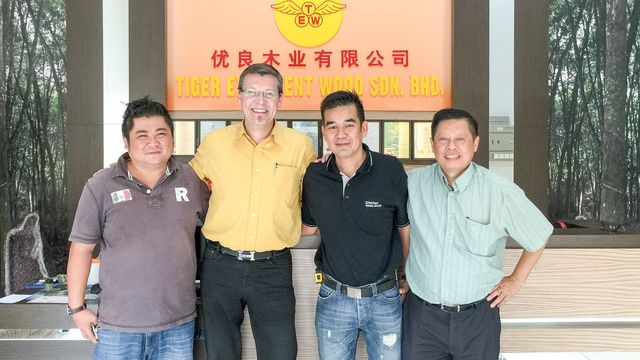 Finger jointing is the best procedure for producing stable longitudinal joints. When the quality is right, lasting connections can be made that reach as far as Malaysia. Tiger Excellent has demonstrated this with a new show of faith.
Tiger Excellent Wood is a leading manufacturer of semi-finished products from the plantation wood "rubberwood" in Malaysia. Following positive past experiences with complete provider WEINIG, company boss Tiger You has recently made a number of additions to his value chain. With WEINIG, he has always found the components he needed to make his production more efficient and to improve the quality of his products. As a result, a close connection has been formed. Tiger You's most recent coup was to invest in a HS 200+ high-performance finger jointing line with a capacity of 240 parts per minute. In conjunction with the company's existing WEINIG scanner and cross-cutting system, the new technology has helped the company to achieve further increases in capacity with significantly higher wood recovery. Material and wood savings are boosted considerably by the GlueEye Vision automatic glue application monitoring and the Trimsaver measuring and positioning system, which can save 100,000 running meters of wood per year. Other priorities of the Malaysian entrepreneur included robust machine technology and simple operation. The reliable HS 200+ high-tech flat finger jointing line has allowed him to take his production to new levels despite some challenging climatic conditions and the basic qualifications of some of his personnel.
Picture:
The right connection: left to right Jacky Tan (Tiger Excellent Wood), Dirk Bartens (WEINIG Grecon), Tiger You (Managing Director of Tiger Excellent Wood) and Sunny Wee (WEINIG Asia)