Optimizing cross-cut saw OptiCut S 50: The most sold cutting system for optimizing cross-cut saws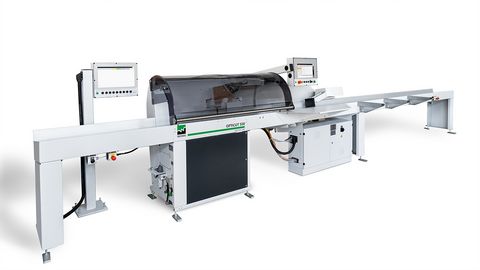 The OptiCut S 50 has been in our product range of optimizing cross-cut saws with positioning pusher for almost two decades and has built up a well-deserved reputation over the years as a powerful, flexible and safe cross-cut saw. Product-specific equipment options, intuitive operation and effortless maintenance make this machine suitable for practical use and thus support countless companies in optimized lengthwise cutting. The main application of this saw is still general fixed length cutting of boards, scantlings, rods, strips and many different cross-section shapes and materials. Depending on the requirements and production output, the saw is also available in different outfeed versions. These include, for example, a lateral pusher table for single outfeed of the collected strand of cut parts, as well as direct tipping of the workpieces into a material container. One-man operation is increased to a maximum by these useful options, making the saw an indispensable companion in production to optimize costs.
Prices
x
Different requirements - different prices
The price of a WEINIG machine is just as individual as your requirements are. Therefore, let us discuss briefly what is most important to you – you will then receive our preliminary, non-binding quote.
Personal advice
x
Personal advice – for higher productivity and greater efficiency
Together with your WEINIG expert you will find the ideal machine for your requirements. Simply submit the completed form, and your local WEINIG expert will be happy to discuss all further details with you.
---
The WEINIG OptiCut S 50 provides
Up to 4x the performance compared to a manual cross-cut saw
reduced unit costs through one-man operation
Can be equipped with useful options
virtually maintenance-free
Rigid positioning pusher in standard version
Innovative mechanical engineering
Produced since 2003, this optimizing cross-cut saw is the best-selling model in its price class. The saw combines all the advantages of an automatic cross-cut saw with full optimization features with defect detection.
Above all, its compact and robust design and simple operation make it the perfect all-round machine for automated cutting.
It is capable of processing cross-sections of up to 300 x 100 mm (width x height), which makes it suitable for many different material sizes. For particularly high infeed material, the model is optionally available with a cutting height of 120 mm.
Future-oriented safety device
Safety is guaranteed by various locks and push-buttons according to the latest occupational safety standards. In addition, a unique guard keeps body parts out of the danger zone while the operator maintains an overview of the workpiece processing.
The encapsulated pusher guide is extremely durable, works reliably and precisely and is also virtually maintenance-free. The pusher is moved by a drive motor located at the front of the base machine. This results in the shortest possible belt length. At the same time, belt elongation is kept to an absolute minimum thanks to steel reinforcement.
Minimum waste and highest quality at all times. Full optimization not only guarantees optimum utilization of the workpieces depending on their raw length, but also takes into account the defects and quality areas marked by the operator.