WEINIG OptiCut 200 series: Strong concept for profitable, high-performance cross-cutting
Profitable cross-cutting is guaranteed with the high-precision DimterLine OptiCut 200 series. To achieve maximum value creation, the OptiCut 200 series optimizing cross-cut saws not only cut out defects, they also calculate the best possible length combination from the available fixed lengths and cutting list. This guarantees maximum recovery and/or optimal value from your material. Finger-jointing lengths are fully integrated into the optimization and up to 8 different wood qualities can be classified. The wood simply has to be marked and placed into the machine infeed. The horizontal alignment makes this work stage much easier. Of course, you can also integrate fully-automatic defect detection (scanner) into the cutting line.
The universal OptiCut 200 and high-performance OptiCut 200 Elite as well as the high-precision OptiCut 200 Exact from the Dimter Line all offer full optimization as standard. The low number of moving parts and intelligent drive system make the systems incredibly dynamic. The OptiCut series offers you innovative mechanical engineering from cross-cut saw specialists combined with state-of-the-art control technology and software - everything from a single source.
All machines in the DimterLine OptiCut 200 series can be easily operated via the OptiCom terminal. Create a cutting list and off you go! Operating safety is also guaranteed under extreme conditions And another advantage: Customers of Dimter Line OptiCut machines benefit from the service of an experienced manufacturer and the security of the worldwide presence of WEINIG.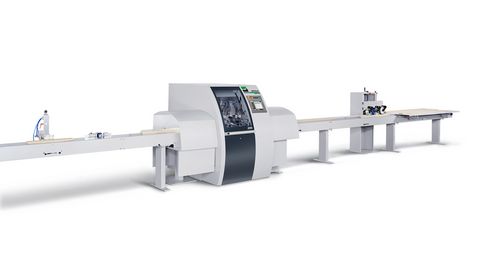 Perfect entry into high-performance cross-cutting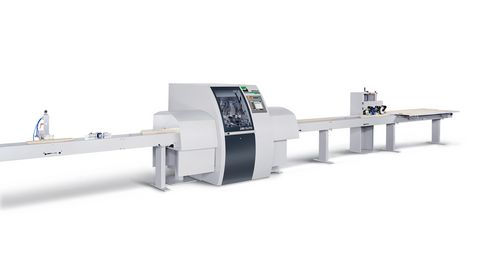 More performance for high-performance cross-cutting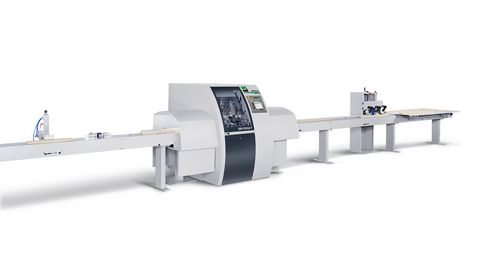 The first choice for optimal precision
WEINIG OptiCut 200 Extreme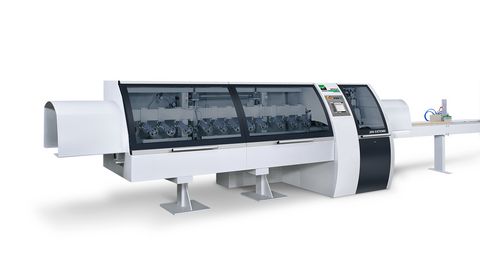 The powerhouse for maximum performance
Cross-cut undersized, twisted and bowed timber without restriction
---
The WEINIG OptiCut 200 provides
When it comes to quality, no distance is too great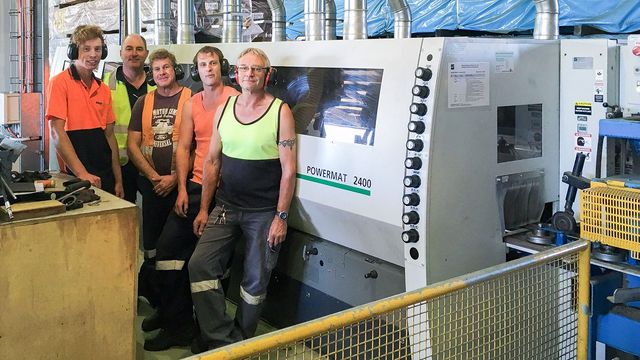 Tasmania is way off the beaten track for most people on earth. Even there, however, in the extreme east of Australia, wood processors rely on the German premium brand with six letters.
Brittons Timber has an excellent reputation as a producer of high-quality timber products for interior fittings. The company is also renowned for its spectacular timber construction projects and the use of exotic Tasmanian wood types. When it comes to surface quality, Brittons Timber does not entertain any compromises. Company boss Shawn Britton knows what he wants:
"I have been a proud WEINIG customer for 25 years and look forward to continuing this partnership for another 25 years." In 1994, when the company acquired its first WEINIG moulder, planing facility manager Jock Dawson traveled to Tauberbischofsheim for extra training. He says the principles he learned there about wood processing to the highest standard continue to serve him well today. His first machine has since been replaced by a 10-spindle Powermat 2400, whose jointing system guarantees optimal finishes even at high feed speeds. Furthermore, WEINIG fan Shawn Britton quickly recognized that WEINIG's all-round expertise could help him to further optimize his production process. He now has a WEINIG optimizing cross-cut saw OptiCut 200 Elite linked to the Powermat. For its facility in Melbourne, the model Tasmanian business also invested in a further WEINIG automatic moulder plus two saws. This production technology helps Brittons Timber to fulfill its advertising promise day after day: Timber products that give every project a new definition of style and beauty.