WEINIG ProfiJoint: Enormous performance potential for those starting out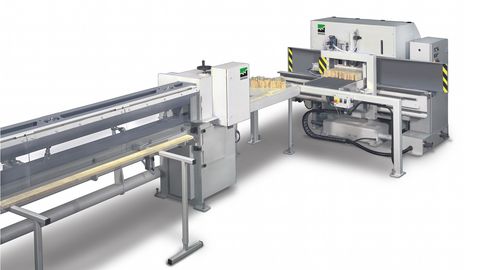 The newly developed ProfiJoint entry model uses the same technology as the "big ones". A wise investment with an outstanding cost-performance ratio. Due to the modular design, the line can be upgraded to a shaper combination. Just one of the many plus points, including the quick return it offers.
This production line can process wood widths up to 150 (170) mm, wood thicknesses up to 50 (80) mm and wood entry lengths between 150 and 700 mm without any problems.
The cast iron body reduces vibrations in the area where the precision of the finger jointing is paramount. And not forgetting the tool technology: Regardless of whether you are marking vertically or horizontally with pre-scorers, the ProfiJoint range uses the same equipment as the high performance models.
Prices
x
Different requirements - different prices
The price of a WEINIG machine is just as individual as your requirements are. Therefore, let us discuss briefly what is most important to you – you will then receive our preliminary, non-binding quote.
Personal advice
x
Personal advice – for higher productivity and greater efficiency
Together with your WEINIG expert you will find the ideal machine for your requirements. Simply submit the completed form, and your local WEINIG expert will be happy to discuss all further details with you.
---
WEINIG finger jointing line for short timber pieces offers you
Robust and powerful
High operational capacity, up to 200 pieces/min (28 km/8h-shiftr)
Processing with one and two component glue
Compact and efficient production process
Statistics and production data recording
Customized level of automation - from manual to fully automatic
Expandable using peripheries, such as feeding systems and stacking systems
WEINIG ProfiJoint offers you
Incredibly easy to operate
Compact option
Shortest depreciation time
For vertical and horizontal finger joints
For 4 mm, 10/11 mm and 15/16.5 mm finger joint lengths
One-person operation possible
Almost all types of glue can be used with the relevant adhesive pump.
Up to 6.1 m starting length (20 foot)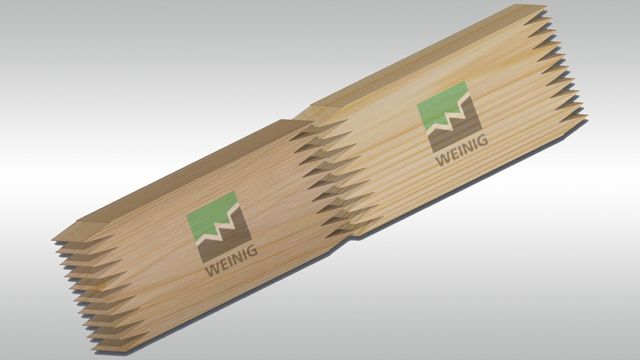 The vertical finger joint is the most frequently produced type of finger joint in the world. It provides the highest performance in a packaged finger jointing line. The vertical profile is mainly applied in constructive woodworking, but is also used for building windows and frames. It is has the largest glue surface and is therefore the most stable of all finger joints.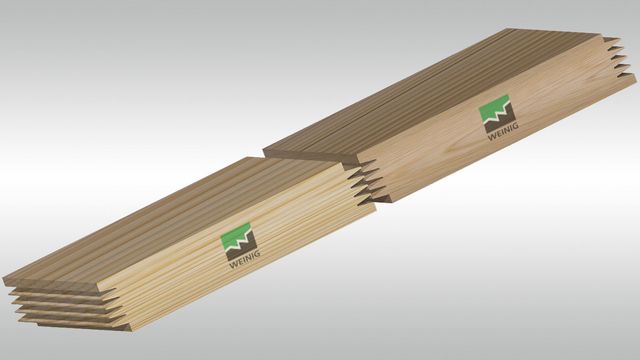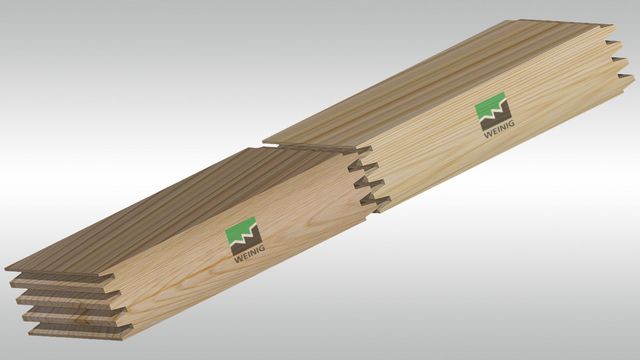 The half shoulder profile is the second most frequent profile that is run, because it can be used with individual shapers as well as in manual to fully automatic lines. The reverse shoulder profile is mainly used for the simplest lines where, sometimes, no scoring unit is used.
The trapeze profile is also called "American Profile" because this finger joint originates from the US and is usually delivered with a finger joint length of 1/4 inch. Horizontal finger joints are mainly used in furniture construction. The shoulder profiles provide, for example, table plates that look like parquet where only the straight butt joints are visible.