Optimizing cross-cut saw OptiCut 200 Exact: The first choice for maximum accuracy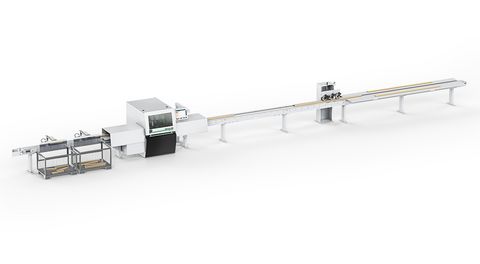 When it comes to maximum length accuracy, the OptiCut 200 Exact is the best choice. With its special measuring method, it achieves length accuracy of up to ± 0.5 mm - for up to 8 preferred lengths. The accuracy of the OptiCut 200 Exact does not, however, compromise its high daily capacity! Intelligent saw blade control can reduce tears and achieve cutting surfaces of the most superior quality. To achieve maximum squareness of the cut, active lateral pressure is also available, which additionally presses the workpiece against the stop guide. Maximum precision and, in many cases, the avoidance of an additional work step are the result.
Prices
x
Different requirements - different prices
The price of a WEINIG machine is just as individual as your requirements are. Therefore, let us discuss briefly what is most important to you – you will then receive our preliminary, non-binding quote.
Personal advice
x
Personal advice – for higher productivity and greater efficiency
Together with your WEINIG expert you will find the ideal machine for your requirements. Simply submit the completed form, and your local WEINIG expert will be happy to discuss all further details with you.
---
The WEINIG OptiCut 200 Exact provides
VarioSpeed infeed belt as standard
5 driven feed rollers from below, pressure rollers from above
Servo-controlled saw stroke as standard
Cutting of cross-sections up to 260 x 12 mm or 160 x 80 mm is possible
Saw blade diameter 500 mm
Integrated waste gate as standard
Measuring wheel in front of saw blade
Min. fixed length behind saw blade: 140 mm
Cutting tolerance ± 0.5 mm for up to 8 preferred lengths of up to 2,500 mm
Our optimizing cross-cut saws offer high performance potential in every respect. To maximize this potential, the intelligently controlled VarioSpeed, among other things, reduces the spacing between consecutive workpieces as much as possible. The OptiCut thus provides a continuous supply or workpieces, so that the idle time of the machine is minimized. This increases the efficiency and productivity of the optimizing cross-cut saw.
Reliability and safety as standard
The OptiCut offers the safest solutions for reliable and trouble-free production even in the standard version – with full capacity utilization of the saws. Machine components, such as the intelligently controlled waste gate, which is precisely harmonized with the performance of the cross-cut saw, ensure smooth production. With the help of the waste gate, the waste parts are reliably separated from the OK parts immediately after cutting, avoiding problems with sorting and further processing. The system also allows longer waste parts to be directly discharged – avoiding additional stages that impact performance.
The OptiCut 200 Exact features an equipment package for increased accuracy. In addition to the standard measuring wheel in front of the saw blade, this package includes a second measuring wheel in the saw as well as laser light barriers in the outfeed. This allows cutting accuracies of +/- 0.5 mm to be achieved for up to eight preferred lengths from 500 mm to 2,500 mm.
Future-oriented and flexible
Adjust the OptiCut to your individual needs, for different wood qualities have different requirements. That is why WEINIG offers the right equipment package for every application including suitable pressure and feed rollers with different surface coatings, which can be changed in a short time if necessary.
Secure workpiece guidance
From the marker table to sorting, the OptiCut guarantees continuous and secure workpiece guidance. For example, inside the cross-cut saw, a continuous fence ensures a clean and exact alignment and a right-angled cut of the workpieces.
Brochures
Simple, fast and sustainable: more details in a downloadable PDF document.
Download brochure
---