WEINIG Rondamat 980: The fully automatic grinding machine for tools for planing, profiling and finger jointing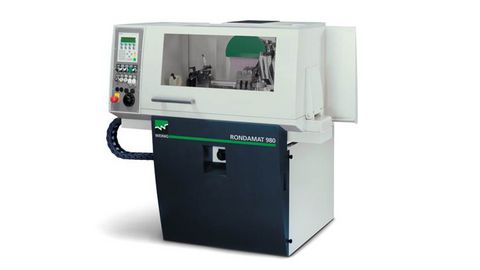 At the moment that the cutting edge meets the work piece, the surface quality of the end product is decided. That is why it is essential to have tools that are always optimally prepared and to regrind them whenever necessary. The Rondamat 980 is a very efficient solution for this problem because it is fully automatic. All you need to do: clamp the tool onto the grinding machine and enter the processing parameters using a control terminal. The Rondamat 980 does the rest by itself.
The fully automatic function helps you particularly for tools with many knives, the operator can complete other tasks while the machine gets on with its work. The operator only needs to carry out the set up, the quality control and the final tool measurement. This makes the Rondamat 980 a real alternative for everyone who works with many straight knives or profile cutter heads. The high processing quality of the Rondamat 980 also creates the ideal conditions for subsequent jointing of the tool in the machine.
Prices
x
Different requirements - different prices
The price of a WEINIG machine is just as individual as your requirements are. Therefore, let us discuss briefly what is most important to you – you will then receive our preliminary, non-binding quote.
Personal advice
x
Personal advice – for higher productivity and greater efficiency
Together with your WEINIG expert you will find the ideal machine for your requirements. Simply submit the completed form, and your local WEINIG expert will be happy to discuss all further details with you.
---
The Rondamat series offers you
The WEINIG Rondamat 980 offers you
High precision grinding
Coordination of the machine technology to the customer requirements
Highly user-friendly
Brochures
Simple, fast and sustainable: more details in a downloadable PDF document.
Download brochure
---